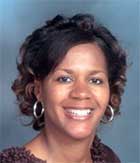 Tondra McLaurin has over fifteen years of professional counseling experience. She obtained a Bachelor's degree in Business Administration from the University of North Carolina at Charlotte and a Master's in Community Agency Counseling from Winthrop University in Rock Hill, SC. After working in the banking industry for twelve years, Tondra transitioned from a career in banking due to a passion to provide counseling services to assist clients in becoming all they were created to be.
After her departure from banking, Tondra developed a counseling program from the ground up for a three-thousand member organization and implemented programs in the areas of Blended Families, Divorce Care and Premarital Preparation. She has led seminars in the areas of Loss and Grief, Women's Issues and Career Transition. Tondra now utilizes her knowledge to serve clients within her private practice setting.
Tondra specializes in marital, premarital, anxiety, depression, blended family, post traumatic and veterans' issues. She is uniquely gifted in helping others resolve relationship conflict in the areas of family of origin, dating, marital and families. In an effort to assist couples with making wise decisions prior to marrying, Tondra authored the "Premarital Handbook" which she utilizes during premarital counseling sessions. She employs a Christian approach as she meets each client where they are emotionally, spiritually, and socially. Her goal is to ensure that each client Experiences Kingdom Results as they receive a tailored experience that enhances their life and assists them with moving forward.